Aviation and Pilot: New video "DA42-VI on trial"
Aviation and Pilot :
New video "DA42-VI on trial"
In the video of the Diamond Aircraft DA 42-VI test flight below, Jacques Callies went to breathe air from Wiener Neustadt, Austria, and met Franck Zhang, the new CEO.
Initially published by Aviation and Pilot, the video presents the DA42-VI test flight. Built from carbon fiber and equipped with two ultra-modern Austro Engine AE300 170hp Jet A-engine1, the DA 42-VI combines all the most appreciated assets of the DA42 New Generation with better performance and greater comfort.
To learn more about DA 42-VI, click below!
Aviation et Pilote n°544 - may 2019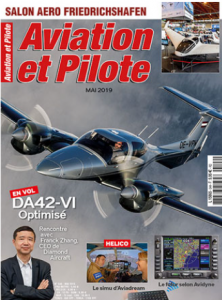 The ATA team also endorses Jacques Callies' article for Aviation and Pilote magazine on Diamond Aircraft's DA42-VI: this is an opportunity for you to learn more about this model, and to find out why we are distributing it.
Discover the new Aviation and Pilot No. 544 number from May 2019.