Focus on ATA Maintenance
Focus on ATA Maintenance : 
Through its subsidiary ATA Maintenance, ATA is also a major player in maintenance in France.
The 10-person strong team is comfortably set up in a 1.200 M² hangar on Avignon Provence airport.
Each year more than two hundred work files are opened under EASA PART M/F, G + I maintenance approval.
ATA Maintenance thus ensures airworthiness monitoring and maintenance of some 40 contract aircraft as well as heavy maintenance where specific skills are required, such as major visits to medium twin-engine aircraft, aircraft remanufacturing or structural repairs following an incident.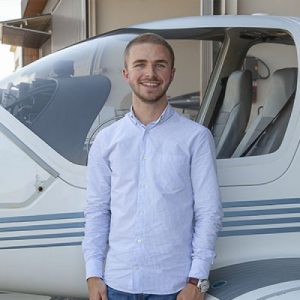 Valentin PAULEAU – Maintenance
Although ATA Maintenance is recognized as the French specialist in the DIAMOND AIRCRAFT range and diesel-cycle engines, the technical team also offers a rare expertise in CIRRUS Aircraft, PIPER and ROBIN products.
In order to have the parts necessary for the overhaul and repair of the equipment, ATA Maintenance regularly supplies the stock of the workshop and has more than 1,500 references. The team's experience has enabled it to create a stock of common parts that ensures optimal reactivity when maintaining your aircraft.
ATA Maintenance is also involved in environmental policy, our team ensures the reprocessing of its waste and performs a selective sorting of its used equipment.
The team is managed by Valentin PAULEAU who will be happy to answer your request: valentin@ata-by-pelletier.aero
As part of its development ATA Maintenance recruits:
If you hold a mechanic's licence, have significant experience in this sector and wish to be fully involved in a dynamic and developing society, don't hesitate to contact Valentin.
Below are some photos of the Maintenance Workshop: